The Wicked Wit of the West: The Last Great Golden Age Screenwriter Shares the Hilarity and Heartaches of Working With Groucho, Garland, Gleason, Burns, Berle, Benny, and many more.

By Irving Brecher as told to Hank Rosenfeld

Read more

By Benjamin Mandil as-told-to Hank Rosenfeld.

"It was moving and gripping... There is such a zest for life in it...It sounds like a spoken voice - as though one is listening instead of reading. The pre-war descriptions are truly wonderful...I wish I had done the same."

Read more
Contact me for Today's Writing Special!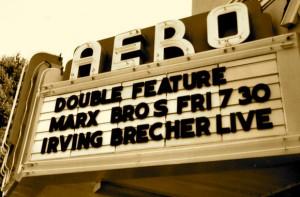 Hank Rosenfeld wrote comedies for the Bond Street, DaK, and H.E.A.P. theatres in New York, touring with productions to the Netherlands, Berlin and New Jersey.
Hank was on staff at Spy Magazine in NYC. He has written for the Los Angeles Times, Los Angeles Magazine, Detroit News, NY Post, Premiere, PAPER, the Forward, and the Shambhala Sun. A storyteller on NPR and APM shows "All Things Considered," "Marketplace," "Weekend America" and "Off-Ramp," he produced comedy shows at the legendary KSAN in San Francisco and Howard Stern station, K-ROCK (WXRK) in New York.
He wrote jokes for the long-running Broadway show, Catskills on Broadway at the Lunt-Fontanne Theatre, and lived as a deejay on the pirate-radio ship, The Voice of Peace, broadcasting "from somewhere in the Mediterranean." While writing for the Athens Times, Hank was arrested for robbing the National Bank of Greece. Found innocent, he was kicked out of Greece after receiving a beating and a wonderful recipe for tzatziki.
Irv Brecher, The Wicked Wit of the West, protesting the 2007 Writers Strike. "As Chester A. Riley would have said, `What a revoltin´ development this is.´ But he only said it because I wrote it."