About Me
FOR ADDITIONAL WRITING & EDITING SERVICES CLICK ON:
https://www.thumbtack.com/profile/services/zugn8h3tZYHO0Q/

ALL ABOUT IRV and ME
I interviewed Irving Brecher for six years at his favorite delicatessens collecting stories for what he finally called, "a freak of a book." THE WICKED WIT OF THE WEST was published by Ben Yehuda Press in 2009 and was also called, "A must read" by critic Leonard Maltin, "An irresistible memoir brimming with delectable anecdotes and irreverent brilliance" by The Boston Globe, and "Like spending Tuesdays with Morrie listening to Krapp's Last Tape" by producer Don Foster.
In 2013, the book was published in Italian where it is also available as an e-book: http://www.libridivertenti.it/a-pesca-con-groucho-c2x13427728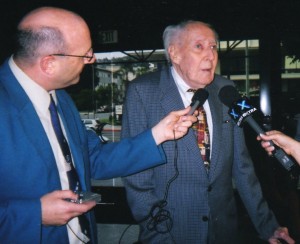 My friend and 94-year-old writing partner Irv "The Nerve" is pictured (right) being hounded by the press at a screening of The Marx Brothers movie, "At The Circus" — one of two pictures Irv penned for Groucho, Harpo, and Chico.
Here's a link to an NPR piece, produced by Jon Kalish, about the writing of our book:
http://www.kcrw.com/etc/programs/uf/uf110329irv_and_me#idc-cover
Once upon a time, I played records as a deejay on a legendary pirate radio ship called The Voice of Peace broadcasting, "from somewhere in the Mediterranean" to the countries of Lebanon, Israel, Egypt, Jordan and we could reach Cretans at night.
While writing a column for The Athens Times I was arrested for robbing the National Bank of Greece in Athens. Found innocent (of course).
In 2012, my second as-told-to book, MEMORIE: MY JOURNEY FROM BELGRADE TO MINNEAPOLIS by Benjamin Mandil, was published at Small Batch Books.
Am currently blogging at www.walkytalky.us ahead of book WALKY TALKY: Crafting Conversations in the Age of Screens, advice from a Folk Journalist.
I have written plays for Bond Street, DaK, and H.E.A.P. theatres in New York, touring the Netherlands, Berlin and New Jersey. On staff at Spy Magazine in NYC during the early, funnier years, my stories also appear in the Los Angeles Times, Los Angeles Magazine, Premiere, PAPER, the Forward, Moment, Heeb, The Detroit News, NY Post and The Shambhala Sun.
After producing daily comedy radio shows at KSAN the famous "Jive 95" FM in San Francisco and K-ROCK/WXRK FM in New York, I contributed jokes to the long-running Catskills on Broadway show at the Lunt-Fontanne Theatre in NYC.
Hailing from Detroit, I learned a lot driving an ice cream truck for The Good Humor corp.
THE WICKED WIT OF THE WEST was translated into Italian in 2013 and published as A PESCA CON GROUCHO which means "FISHING WITH GROUCHO," and refers to hilarious adventures Irv Brecher had with his pal Groucho Marx where they were thrown out of  various hotels…
Reviews of all three books mentioned above can be read on the REVIEWS page: http://www.hankrosenfeld.com/reviews/
Currently, I tell stories as a folk journalist on syndicated NPR and APM radio shows. Here are a few of those folk journalisms: http://www.prx.org/series/33448-folk-journalism
Please click on LINKS page to hear other tales.
Receiving honorary challah loaf from Ronnie Pastrami in St. George, Utah.