Reviews
MEMORIE: My journey from Belgrade to Minneapolis by Benjamin Mandil as told-to-Hank Rosenfeld (2012)
I thoroughly enjoyed the way you were able to maintain Ben´s voice throughout the book. Having done several books from interview to finished product, I know it´s a real art to be able to bring the "author´s" voice through while making it read well. Fred Levine, Small Batch Books
I am blown away…can't put it down. I love how it is written, so experience-close, speaking in the now as it is happening, as he is thinking about it, as he is making sense of it all, as a 13 year old feels and thinks, as a 16 year old realizes what is unfolding. How interactive the text is, with his questions, and his jokes, and his warmly mocking humor.  Reader
There is such a zest for life…It sounds like a spoken voice – as though one is listening instead of reading. The pre-war descriptions are truly wonderful. I wish I had done the same [for my father]. Wonderful gift…truly moving and gripping. Reader
2009-2014 for the book The Wicked Wit of the West by Irving Brecher as told to Hank Rosenfeld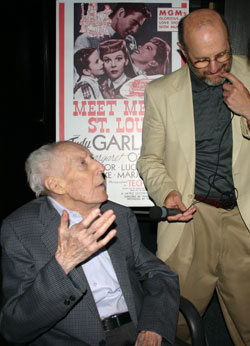 Interviewing Irving Brecher
We should be grateful that [Rosenfeld] set his sights on Irving Brecher. "The Wicked Wit of the West" portrays a man who, despite decades in a vicious industry, stayed generous of spirit, clear-eyed and, most important, funny.   Gordon Haber, The Jewish Daily Forward
Rosenfeld does a fine job as chronicler, selector, and muse for these interviews, and his genuine friendship with Brecher is the reason that this book exists. Altogether delightful, this is an incredible reminiscence by a remarkable man.  Library Journal. Com, Christian Zabriskie, Queens Library, NYC
A wonderful achievement. You need this book. It is the antidote to cynicism, and will keep you guffawing as you read and re-read. Dave McQueen, retired news anchor, KCBS San Francisco
Irreverent brilliance is on ample display in "The Wicked Wit of the West," Brecher's entertaining memoir written in collaboration with erudite disciple Hank Rosenfeld. Brimming with delectable anecdotes, Brecher's look back is like leafing through a scrapbook with your favorite crotchety uncle. Brecher elevated the wisecrack into an art form and wrote some of the most original films of the studio era. After feeding lines to some of Hollywood's finest, the "wicked wit" finally gets the last word in this irresistible memoir.   Mark Griffin, The Boston Globe
It is above all, a record of a unique friendship between an elderly man and a younger man, a meeting of generations with humor as the binding tie.   Lynne Bronstein, Santa Monica Mirror
An unconventional but entertaining book, full of great stories, wonderful show business memories, rants and salty opinions … It also offers a bittersweet portrait of old age, although Brecher refuses to surrender to sentiment. In one of their last conversations, Rosenfeld asks the 94-year-old what he would like as an epitaph. He replies, "Here lies Irv Brecher, who doesn´t recommend it." Be ready to appreciate a man who never got the attention he deserved. (He couldn´t have asked for a better testament to a life well lived.)  Leonard Maltin´s Movie Crazy
A wonderful and accessible book… a testament to the rapier-like humor of Irving Brecher… crammed with fascinating stories.  Ivan Shreve, Thrilling Days of Yesteryear (.blogspot.com)
One of the funniest books of the year.  Connie Martinson, Beverly Hills Courier
Brecher drops one-liners about the actors he befriended (At 101, George Burns had "not one single enemy. They all died."), as well as life in general (Hank: "If you had a robot, what would you want it to do for you?" Irv: "Go to my proctologist."). If, looking at the book's cover, you recognize only Judy Garland and Groucho Marx, you owe it yourself to complete your comedy education. Let this book be your guide.  Kevin Lauderdale Author Magazine (.org)

This book is the ULTIMATE gift to give anyone who:
loves comedy of any kind
is bedridden and needs to stay put with a book
needs a book for the "plane"
is Jewish, half-Jewish, half-sour, a quarter Jewish or a Jewaroon ( 1/8th Jewish)
interested in biography, film, history, sarcasm, musicals or celebrities with massive nose-hair
craves a hardcore hit of New York City
admires craftsmanship
wants to add to their "must see" video/dvd rental list
needs help choosing gifts; WWOTW delivers "ooohs and ahhhs"
needs more Vincente Minnelli trivia
Thank you Mr. Rosenfeld for keeping Irv alive.  A. Karno, Venice CA
A joyous collection…Brecher's achievements are proof that sharp Yiddish humor became all-American comedy, and that behind every great wit lies a heavy heart. But as Irv noted, "The only escape from that is to try and be amusing."   Michael Simmons, LA Weekly
Be prepared for a handkerchief and plenty of laughs. This book is a must read and should be in every film class across America.  Tommy Garrett, Canyon News
Like "Tuesdays with Morrie" only with laughs, the beauty of this book is the deep friendship that develops between Rosenfeld and the oft-crotchety Brecher.  Jack Neworth, Santa Monica Daily Press
As soon as I finish that last page, in the spirit of Brecher/Rosenfeld, I am beginning my search for the perfect corned beef sandwich, cole slaw on the side!  Lois Rose, Los Angeles CA
You make it so easy to enter his world. It's like a Jewish adventure in movie land. Gut gemacht!    Mark Solomon, Editor of Frankenweenie and other Tim Burton films.
REVIEWS IN ITALY: "A PESCA CON GROUCHO" translation of Wicked Wit of the West
http://cinemaitaliano.info/news/22163/a-pesca-con-groucho-un-libro-prezioso.html



FISHING WITH GROUCHO – A precious book

Silhouette publish the biography of the great American comic signed by Irving Brecher

FISHING WITH GROUCHO – A valuable book continues the meritorious work of recovery of texts ( auto) biographical dedicated to the great American comedy initiated by Silhouette Publisher: this time the book is signed for four hands by Irving Brecher , now ninety, and the giornalista Hank Rosenfeld, dedicated to Groucho Marx.

" Fishing with Groucho " collects the memories of six years of lunches, walks and evenings with the ultimate pioneer of a Hollywood that no longer exists , Irving Brecher , one of the authors of the most prolific and original that the entertainment world has ever known.

The best friend of Brecher was Groucho Marx, who described him as " The Wicked Wit of The West"

untranslatable expression in Italian that would sound more or less like " The most scathing language of the West ."

Friendship between the two is devoted to the heart of this book, ranging from the most intimate stories of the idiosyncrasies of a movie star curiosities collected on movie sets , to the surreal tales of dinners and relaxing holiday far from where the shy author was dragged into embarrassing situations to say the least .

An essential reading for all lovers of great cinema .

01/27/2014

—————————————–

A PESCA CON GROUCHO

Vimercate . Silhouette publisher is 5 years old . It is not a joke !

The publisher Vimercate , launched by Charles Amatetti just for fun , celebrating its first five years of life. And it does so in its own way , putting on the book market what is called " ( Perhaps ) the funniest book of the year ."

And ' in fact in the library " A Fishing with Groucho " by Irving Brecher ( and Hank Rosenfeld ) .

 Irving Brecher , intelligent and active nonagenarian , is the author and screenwriter of the most prolific and original entertainment world that the U.S. has ever known. The heart of this memoir is dedicated to the friendship between Brecher and Groucho Marx , whose portrait Irv gives a novel and exhilarating . A Fishing with Groucho is also a treasure trove of anecdotes that tell of a world populated by stars, starlets , producers and bosses of the Studios , a world that no longer exists but that makes us laugh and dream again today.

Groucho Marx called Brecher " The most perfidious language of the West" , and the friendship between Brecher and Groucho – a " dangerous companion ," said Irv – is at the heart of this hilarious memoir that not only reveal a novel Groucho , but are a treasure trove of delightful anecdotes , and often surreal , and it was on the Hollywood stars who have made it legendary : from the Marx Brothers to John Wayne, Judy Garland George Burns, Milton Berle passing , Jack Benny and all the who's who of comedy vaudeville before, and then Hollywood .

The journalist Hank Rosenfeld in six years of lunches , walks and evenings has collected this precious story by Irving Brecher , author of the most prolific and brilliant that Hollywood has ever known.

A Fishing with Groucho is a ride from the dawn of the entertainment world to the affirmation of Hollywood as the Mecca of cinema , the story of a world populated by many stars, starlets and boss of the Studios , a world that makes us laugh , move and dream today.

————————————————————-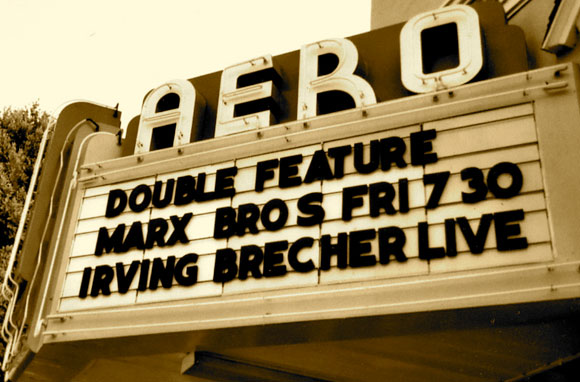 PHOTOS ON THIS PAGE BY LORI CHAMPAGNE