The Wicked Wit of the West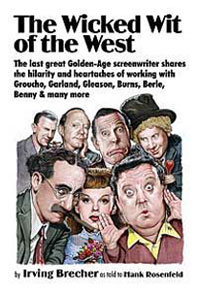 The Wicked Wit of the West: The Last Great Golden Age Screenwriter Shares the Hilarity and Heartaches of Working With Groucho, Garland, Gleason, Burns, Berle, Benny, and many more.
By Irving Brecher as told to Hank Rosenfeld
"If you love vintage show business, this book is a must-read!" Leonard Maltin
Our book (WWOTW) received a *Starred* Review from the Library Journal, was called an "irresistible memoir" by the Boston Globe, and tells you all about the most hilarious nonagenarian you never met. Who is Irving Brecher? And how did I convince him to share what it was like to be the only man ever to write two Marx Brothers movies by himself, create vaudeville routines and radio shows for Milton Berle, punch up The Wizard of Oz script, and create "The Life of Riley"- first for radio, then for the movies, and finally as the very first TV `sitcom´ (a term not even invented back then) ushering in the golden age of television in the 1950s?
The answers came during 6 years of tagging along with the incredible Irv, taping this master craftsman´s every word while splitting pastrami sandwiches at his favorite delis. Never failing to fall over in laughter because he put me away every time.
It was Brecher who convinced Judy Garland to star in her biggest movie at MGM, Meet Me in St. Louis. He also wrote Bye Bye Birdie, and created Jackie Gleason's first TV series, where Brecher was awarded the first Emmy. This "wicked wit of the West" (Groucho's nickname for Irv) shares outrageous tales of his days with John Wayne, Fred Astaire, L.B. Mayer, Ann-Margret and other Hollywood legends, including TV pioneer Ernie Kovacs and that (new!) medium's very first talking dog co-star — Cleo the basset hound! — for Brecher's creation, "Peoples' Choice" starring Jackie Cooper.
At 94, Irv gets the last word in his memoir. And here's a peek at an early version of our cover, featuring artist Drew Friedman's brilliant depiction: Can you name all the characters? Irv "the Nerve" (as Harpo nicknamed him) wrote for each of these Hollywood icons. Oh yeah, I loved Irv Brecher as a friend, learned from him as a mentor, and tolerated him like a member of my family. Sadly, as I got fatter on those deli sandwiches, he grew thinner and thinner with age….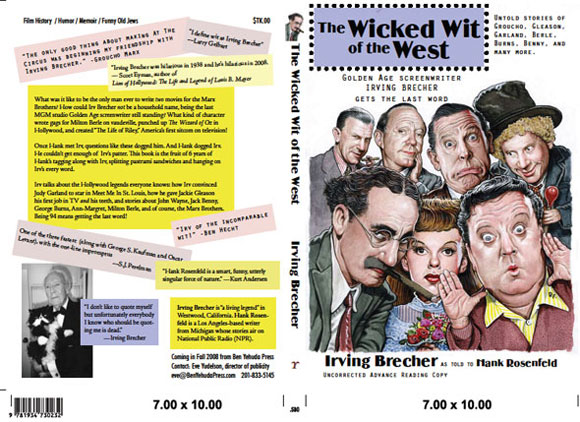 Above: early mock up of covers
Read the Reviews for WWOTW by Irv Brecher as-told-to Hank Rosenfeld
Buy Online on Amazon.
See Italian version and enjoy funny promo video: http://www.libridivertenti.it/a-pesca-con-groucho-c2x13427728
Go to the Publisher page.